We spent the entire 2021 winter at Bay Bayou RV resort in Florida – one of the nicest resorts we found so far! They have 300 full size RV lots. Surrounded by water, there are easy access for Kayaks, canoes, or small fishing boats. You can walk out on the one of the two docks on site to catch a beautiful sunset or just relax. They have a heated pool to enjoy all year round as well as very clean bathrooms, showers and laundry facilities that are some of the amenities. Bay Bayou is conveniently located close to Tampa's top attractions and the beautiful Gulf of Mexico beaches.
Bay Bayou RV Resort – A Hidden Gem!
How to Get to Bay Bayou RV Resort
One of the biggest advantages to Bay Bayou is the proximity to a major metropolitan area – it is in Hillsborough county (Tampa), but very close to the border of Pinellas county (Clearwater/St. Petersburg). If you're looking for camping in Clearwater, this gives you great access to pretty much any store or activity you would want, but also a quick 30 minute drive to gems like Honeymoon Island State Park or Caladesi Island State Park. And if you drive a little further, you can go to the main Clearwater beaches (we try to avoid, too crowded!) or Fort Desoto beach which is amazing!
One thing to note is do not rely on Google for your directions to Bay Bayou. We came down I-75 and Google routed us some strange way down Countryway Blvd – which is not big-rig friendly! A lot of trees, speed bumps and generally annoying. Your best bet is to stay on 580 to Double Branch Road. Two easy turns to the entrance of Bay Bayou!
Bay Bayou RV Resort Check-in
The check-in process couldn't be easier. Pull into the parking lot and go inside to the desk. One thing to note here – Bay Bayou is gated and the front area isn't super large. With our 45 foot rig we felt a little tight when we pulled in (and unhooked our Jeep). But making loop around the bay bayou driveway turned out to be no big deal (click on image to enlarge)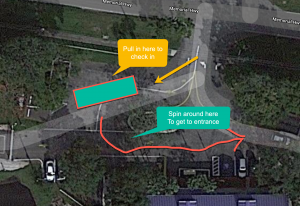 But Don't Do This!
The actual drive for us into the park was another story! You have the option of letting them guide you to your spot, and if you have a big rig it's worth it! Our problem was they told us to take the first right after the gate. Christy was leading the way and she looked right and saw RV's blocking the road (new arrivals also).
So She made the decision to drive further down, which turned out to be a bad idea! We had to navigate through a turn that was next to impossible in our 2015 Entegra Cornerstone. If you have a smaller rig, it would not be an issue, but for us it was the most stressful part of the day!
The reason for this was the bad placement of a concrete sewer port right on the corner of a critical turn (click on the image below). Judging by the marks on it, we weren't the first to make this mistake! The good news is we had a lot of help from neighbors navigating this turn and made it safely to our spot.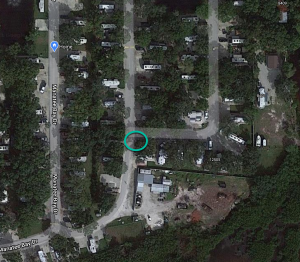 The lesson learned is to really study the park map (and the mapped route to your destination every time. Ideally, unhook your toad and drive the route before you pull your rig through. Driving a 50,000 lb. motor home is stressful enough – why add to it?
Park Layout
We loved the layout at Bay Bayou – even though it is pretty much a standard grid layout, the large amount of big trees give it a VERY private feel from almost any campsite. And you have your choice of two distinct sections – The older side (about 3/4's of the park) has gravel lots with a small paved patio, more trees, and is somewhat cheaper. Or you can opt for the newest section which has full paved driveways, more big-rig friendly, and somewhat less trees and less established foliage.
We have stayed at both, and find each to have their charm. On the new side, our lot was huge (it was kind of in the corner by the fire pit and that helped) and we had a ton of room to stretch out. On the older side, we were more packed in, but the trees really kept us feeling less cramped and had a nice nature feel to it. We were also closer to the pool and other amenities, which was a bonus! We thought that the gravel would be a big downside, but that turned out to not be that big of deal.
Amenities
Pool
The pool is heated and opened year-round. They hold water aerobics as long as it isn't freezing out! They don't have a separate hot tub, but a section of the pool does have jets for a hot tub-like experience.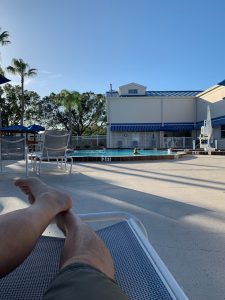 Fishing and Docks
Being on the Bayou has its advantages – there are docks at the back of the property (one that allows fishing). They also have places to launch a kayak if that's your thing. The only downside is the back of the property faces highway 580 – which is a very busy 4-lane that get get noisy.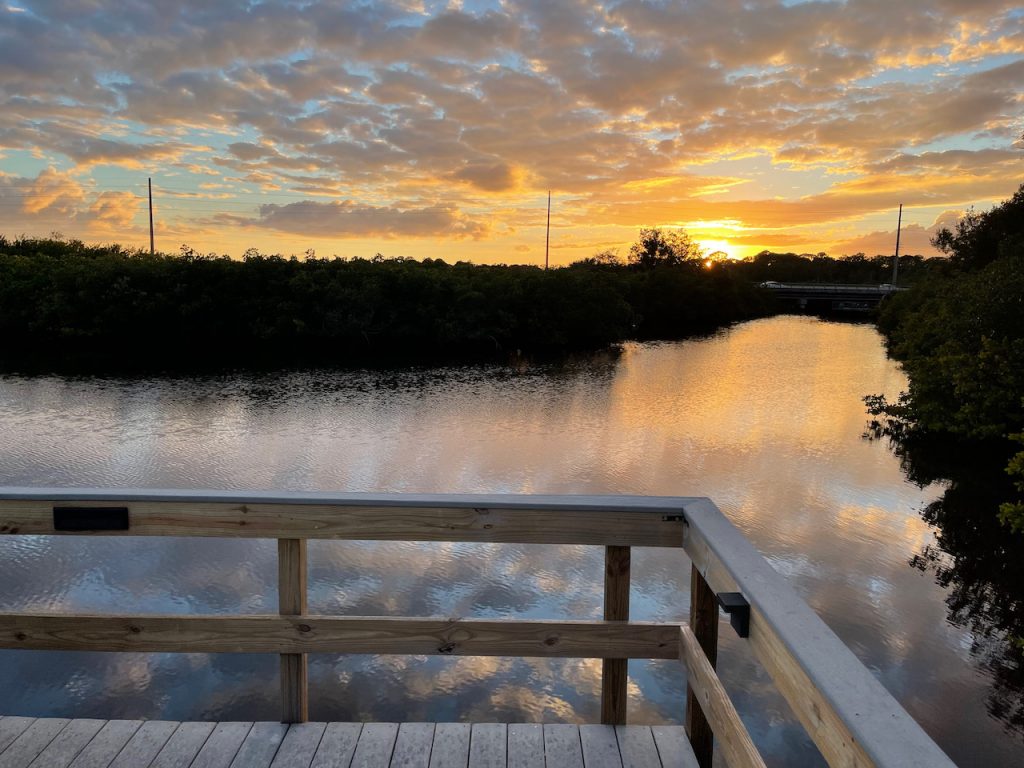 Laundry and Bathrooms
Large, clean and updated, the facilities are very nice! Since the property is pretty large, there is actually two laundromats on-site.
Mail Delivery
Sadly, mail delivery has now become a big deal at parks – many are charging fees for packages. For people like us that would be horrible! Luckily, Bay Bayou has free mail service, and is excellent. You get your own mailbox and they promptly sort the packages for your retrieval from the clubhouse. They feed our Amazon addiction very well!
Security
We spent 5 months at Bay Bayou RV Resort, and didn't have a single issue here. They are gated with a key code, and have a roving security patrol at night. That was reassuring, but we never saw any activity that warranted the patrols, and that is a good sign! Even though the park is in an urban area, it is tucked into a pretty upper-middle class area of nice homes and shops. That definitely helps keep the riff-raff out of the park 🙂
The Area Around Bay Bayou RV Resort
There is so much to do around this area. Check out our other articles for more details:
The People
Since this was the season of Covid, we didn't hang out with people too much (we avoided Covid and are glad we did!). But the people we talked to were super friendly and they have a very welcoming Facebook group for seasonal travelers.
The staff was super nice and helpful also. They worked hard to make sure we got a seasonal spot when we made a last-minute decision to stay for the winter due to Covid. The price was pretty high, but in-line with what you would expect for Florida during the snowbird season! If we were looking for a Tampa RV Resort, we would definitely come back here!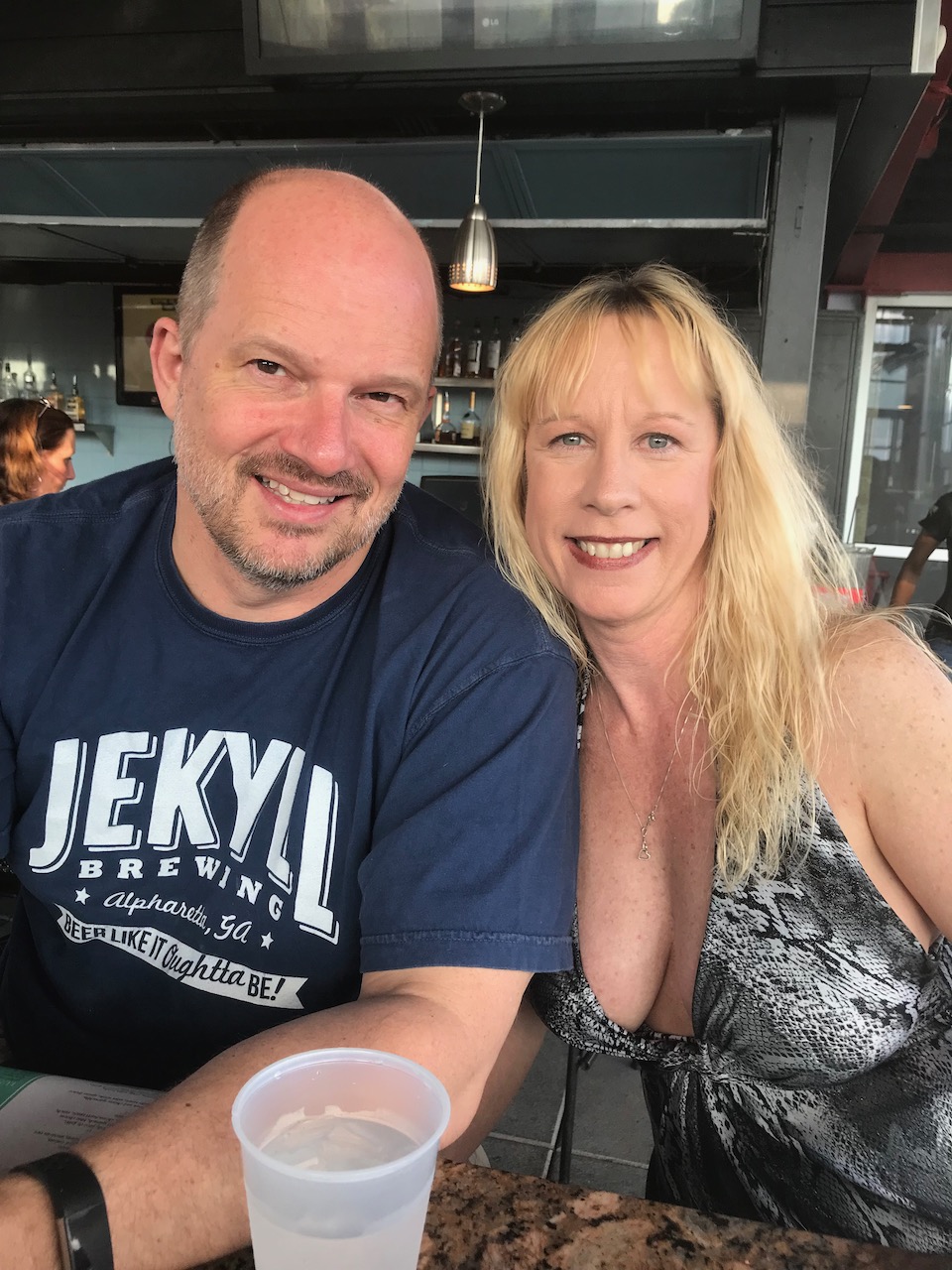 Garrett has spent most of his life in the IT industry, but his passion is music and photography. Trying to enjoy his remaining trips around this big blue spinning ball!