Welcome to our home! We are Garrett and Christy – Two 50-something retirees from Atlanta that hit the road in October 2020. We use this site to share our journey – the good, the bad and the crazy!
So why did we do this? It all started a few years ago when we stumbled upon RV travel channels on youtube. We both thought "that would be fun!" and started planning. We didn't think it would happen for a few more years, but in early 2019, Christy lost her job of 30 years at UPS due to out-sourcing to Guatemala. That turned out to be a blessing in disguise as she is now retired. Garrett retired in December 2019 and here we are! It actually took us 10 months to downsize all our possessions, get the house ready for sale, and get everything into the RV! And there was no lack of drama with all of it – four house offers, three contracts, and almost three months to finally close. Seriously, the downsizing for us was a full-time job for 10 months!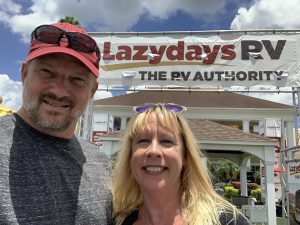 So what are our plans? We honestly don't know, and it could change daily! We are liking this freedom already!