Jeep Wrangler JL bike transport options can be tricky – you definitely have a couple challenges when you want to transport a bike or two.
The main disadvantage compared to older jeeps is the placement of the backup camera – it sits right in the middle of the spare tire! Older jeeps didn't have the camera, so bike racks could screw onto the spare tire bolt pretty easily.
The other challenge with a jeep is the tail gate – because it swings outward, any sort of rack that uses the hitch will make it impossible to open the back, which is super inconvenient. There are only a couple options that can swing away and avoid this problem.
So in our quest for our Wrangler rack, we put together a simple list of requirements:
Handle two mountain bikes
Allow the gate to be easily used with the bikes on or off
The backup camera should be still useable when the bikes aren't mounted
Not stick super far beyond the back of the Jeep
What We Chose
For us, it came down to the Hollywood Racks SR1 spare tire rack. This Jeep bike rack ended up being a pretty inexpensive solution and working out really well. We wish it could have been a bolt-on solution, but the straps turned out fine (although a bit messy, we could probably clean that up).
After two months of use, we just leave the rack attached to our Jeep and throw the bikes on the back anytime we want to take them to the beach. If we are going somewhere we can't watch the bikes, we throw on our Vulcan 9 foot chain with Viro lock on the bikes. Ironically, the lock cost even more than the rack itself – but it's a serious lock.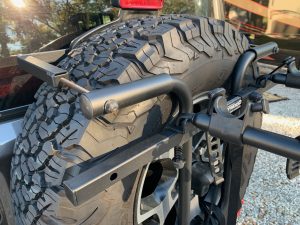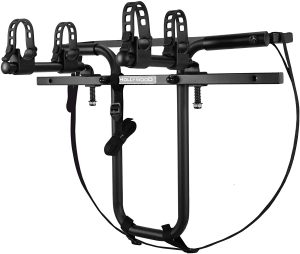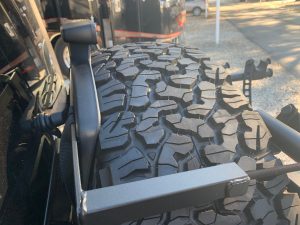 There is a little bit of rust on the bolts after a couple months, but nothing too serious. Honestly, we can't beat this for the price. If we wanted to move to E-bikes, we will also have to get a new rack, as the Hollywood Rack (like any other tire rack) just isn't strong enough to handle the weight.
Don't Want a Spare Tire Rack – Use a Hitch Rack
Hitch racks are more pricey, because they require more parts and have to be stronger since they stick further out the back of your jeep. It is definitely a downside to have the bikes stick further back – when we are set up to tow the Jeep with our 45 foot motorhome, any added length is not welcome! The . Obviously, you need to have a hitch on your Jeep for these to work. Most are adaptable to either 1.25″ or 2″ hitches.
The big challenge on the Wrangler is that spare tire. You have 3 options here:
Get rid of your spare
Use a hitch extender
Use a swing-away
Getting Rid of Your Spare
This is certainly an option, and many Wranglers with 37's or bigger don't run with a spare anyway. But you need to have a way to deal with flats – fix a flat or some other option. And you will still need a swing-away or swing-down if you want to be able to
Hitch Extender
A hitch extender lets your bike rack sit further back on the back of your Wrangler. Make sure it has the weight capacity rating to handle both your rack and bikes.
Swing-aways
A swing-away also extends your bike rack out from the back of your Wrangler, and has the added benefit of allowing the rack to swing away from the back of the Jeep, allowing you to open the back fully.
RackAttach
The RackAttach from 1up is a solid option for a swing-away. It is pricey – the cost was $400 with tax and shipping to our location.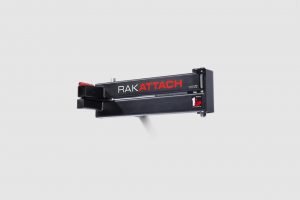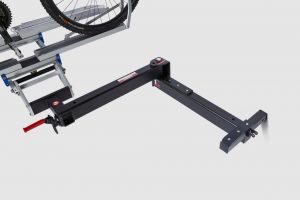 Hitch Racks
Hitch racks are a better option for heavier bikes. They are typically built far sturdier because they are hanging off the back of your hitch. The downsides pretty big also:
Cost – usually much higher, some even approaching $1,000 or more by the time you are fully set up.
Length – they put your bikes much further behind your jeep, especially with an extension or swingaway.
Weight – Because they need to be more sturdy, the hitch itself weights much more than a spare-mount rack. If you have to remove it often, better hit the gym!
Rockymount Backstage
The Rockymount Backstage has a built-in 180 degree swingaway. Pretty heavy duty, and can handle up to 120lbs. This is enough to handle all but the largest e-bikes. They sell an 8″ hitch extension will probably be necessary to clear your spare tire. One cool feature is it can swing down or swing away.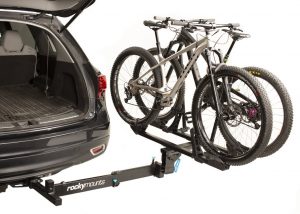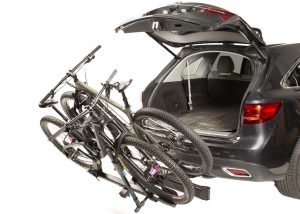 Quadratec 2-bike Platform Rack
The Quadratec 2-bike rack  can be used on a stock Wrangler JL without an extender or a swingaway. It lets the back gate open by swinging down. If you have a bike in the inner position, it will seriously limit the amount you can open your gate.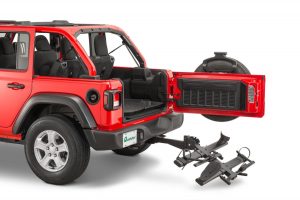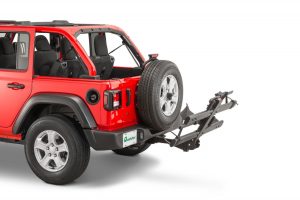 Thule
Thule is pretty much the king of bike racks. They are also some of the most expensive racks made. They have a ton of different, models and the Thule Pro XT2 is a great choice for a Wrangler. It also drops down, but if you want it to move out of the way of your gate (especially loaded), you will need a swingaway.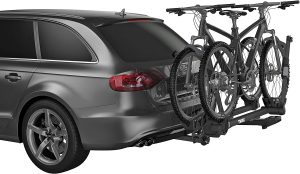 Kuat
Kuat makes very nice a very nice swingaway rack in the NV 2.0. It does come in pretty expensive at $789, but it already has the swing-away built in which is really nice.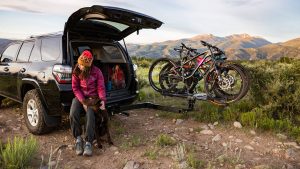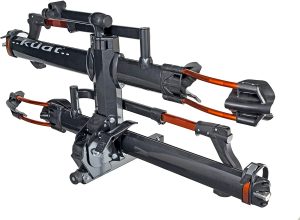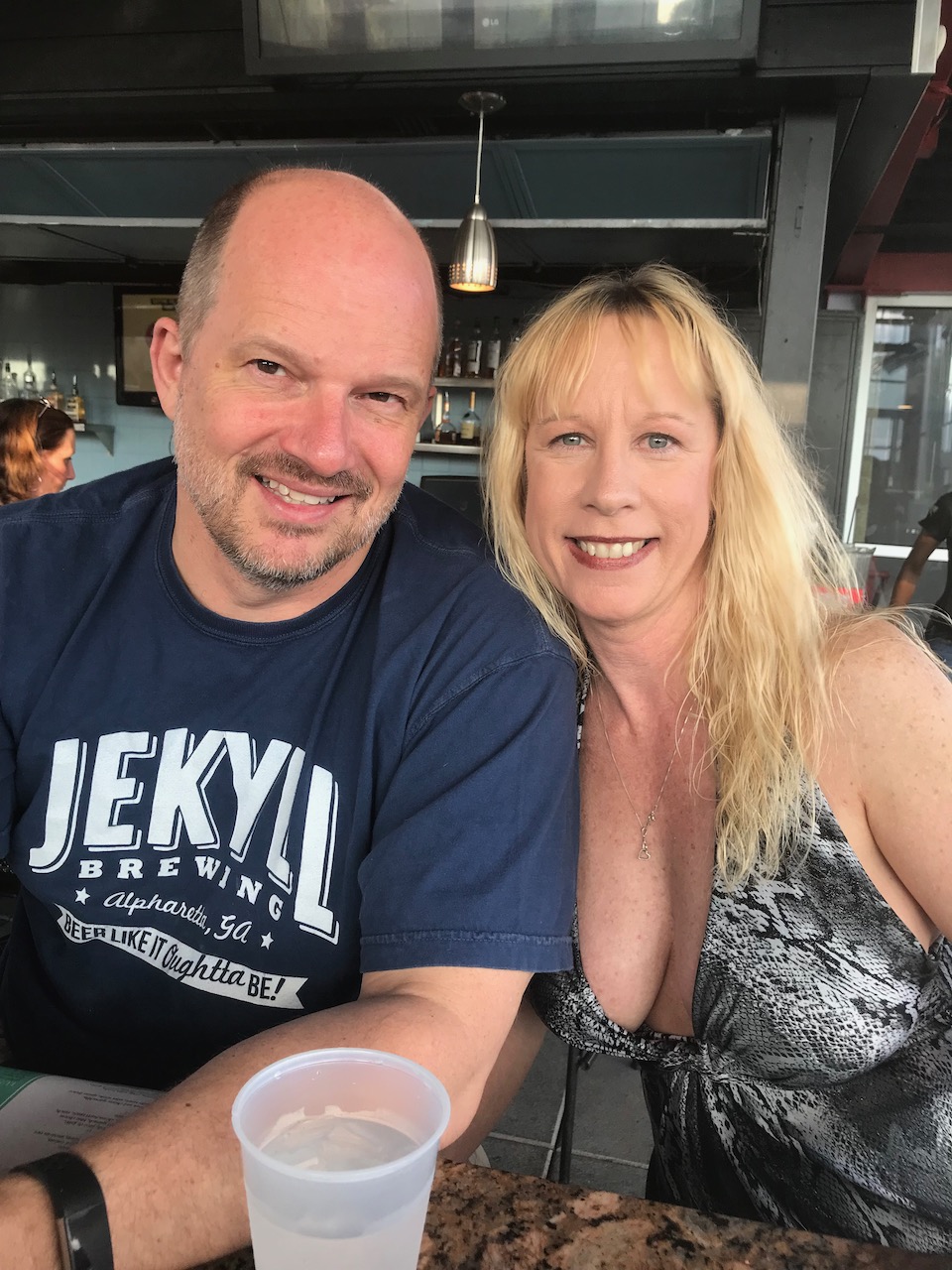 Garrett has spent most of his life in the IT industry, but his passion is music and photography. Trying to enjoy his remaining trips around this big blue spinning ball!